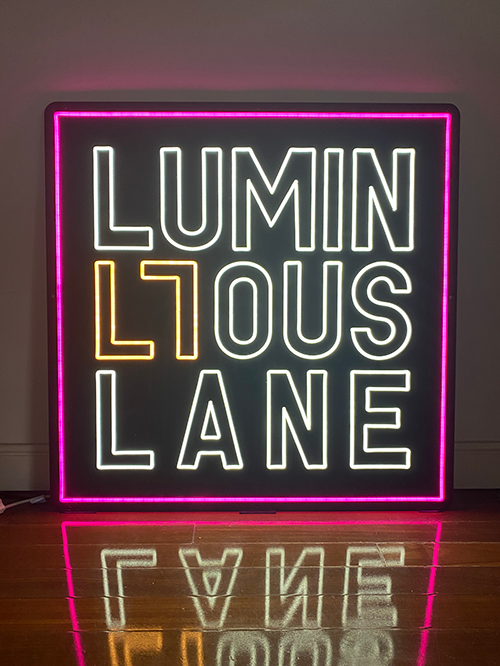 Luminous Lane
Our mission is simple - to provide the finest neon art and custom NEON signs to light up your world, one unique design at a time.
Your vision, your rules! We specialise in crafting bespoke neon designs that reflect your style and personality. From business logos to personalised home decor, we bring your ideas to life in a brilliant burst of colour.
Choose from any of our hundreds of unique designs, or go ahead and send us any idea you would like to come to life in neon!
We want you to easily be able to have your perfect neon design, a design that will last you many years, and one that will illuminate your life - because we think neon lighting is really cool, and we hope you do as well!
SHOP NOW
Collections
We have made some handy collections for you to easily find the perfect neon design for your home, work, or as a gift. All designs can be created in numerous sizes and in your favourite colour!
Why Shop With Luminous Lane?
Free worldwide delivery, 24-month warranty, all signs are hand-crafted, you can easily pay in installaments, and we are based in Sydney, Australia!
Free Worldwide Delivery to over 100+ Countries

24-Month Warranty on all Neon Art & Signs

All Neon Designs are Handmade for Every Order from Only Premium Materials

Pay with: Visa, Mastercard, AMEX, PayPal, and Afterpay, so you can buy now and pay later in 4 easy instalments!

Luminous Lane is based in Sydney, Australia, with our Design Team & Specialists spread across Australia, UK, USA, & Singapore
Easily Create Your Own Neon Sign Online!
Do you want to add a personal touch to your home, or looking for the perfect gift? Our Custom Neon Sign App makes it simple for you to turn any words and names into a neon sign!
Create Your Own Neon Art From Any Photo!
Do you have a company logo that you would like to turn into a neon sign - or how about your favourite pet photo? We can turn anything you would like into a neon artwork!
The Luminous Lane Experience
Our team is here to support you every step of the way, providing exceptional support for a seamless shopping experience.

All our happy customers have been providing amazing reviews and showcasing their neon across social media.

All our Neon designs are handmade for every order from Only Premium Materials and without cutting any corners to reduce costs.

You can easily pay with: Visa, Mastercard, AMEX, PayPal, and Afterpay, so you can buy now and pay later in 4 easy instalments!